About CLL-CLUE
CLL-CLUE is an interdisciplinary consortium, bringing together 5 European medical universities with research activity in the field of oncology and onco-hematology, and one health economics research company.
With the CLL-CLUE project the consortium aims to identify multi-omics biomarker panels and implement artificial intelligence-based clinical decision support systems to guide personalized treatment decisions. We expect that this will lead to significantly increased treatment efficacy, individualization of therapy and reduced drug use and side effects. In addition, reduced consumption of drugs and cost-effective outcomes will lower financial stress that the health care providers and patients experience.
Background
Chronic lymphocytic leukemia (CLL) is the most common form of leukemia in Europe and it remains incurable. Targeted therapies have revolutionized the treatment of CLL. However, many patients develop resistance, have severe side effects or relapse during treatment. There is an unmet medical need for tailoring optimal therapy for each patient in order to prevent ineffective treatment and toxic side effects.
CLL is characterized by wide inter-patient heterogeneity in both pathologic features and clinical outcomes, hence requiring personalized management approaches. Novel targeted therapies including venetoclax (Bcl-2 inhibitor) and ibrutinib (BTK inhibitor) are approved as front-line treatment for CLL. Unfortunately, the treatments are effective only in a subgroup of patients and the administration is currently indefinite and based on incomplete patient stratification. This causes frequent treatment resistance, side effects and a sub-optimal cost-benefit balance.
To address these critical and timely clinical needs for personalized CLL treatment, the CLL-CLUE consortium will work together to solve the following specific aims:
Predict patient responses to Bcl-2 and BTK inhibitors with our new machine learning models
Predict optimal discontinuation of the treatment to prevent development of drug resistance
Predict risk for adverse events, toxicity and infections using clinical and multi-omics markers
Evaluate the clonal composition of a tumor to understand treatment resistance mechanisms
Perform economic analysis for implementing the prediction models in clinical practice
Assess the transferability of the decision support systems between countries in Europe
Timeline
During this 36-month project, the consortium aims to complete 3 objectives as illustrated in the figure below: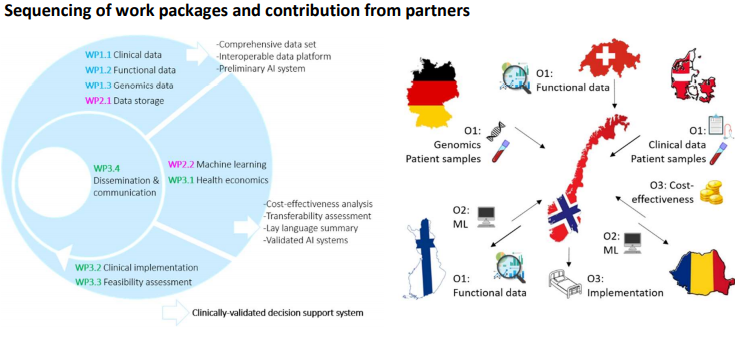 Overall, the program includes 3 main objectives (O1-3) and 9 work packages (WP1.1.-3.4):
O1: Identify relevant clinical and pre-clinical parameters for predicting treatment outcomes
WP 1.1 Identify clinical predictors of treatment outcome, adverse effects and risk of infection for CLL patients from phase II and III trials
WP1.2 Define functional biomarkers as predictors of treatment response for patient stratification and prediction of therapeutic outcomes
WP 1.3 Identify genomic biomarkers for treatment sensitivity and resistance
O2: Develop statistical models and ICT platforms for predicting optimal treatment regimens
WP 2.1 Establish a common data storage and sharing platform providing secured cloud-based access for each partner
WP 2.2 Machine learning for identifying multi-omics biomarker panels for treatment responses of individual CLL patients
O3: Cost-effective implementation of the system in future clinical trials and clinical practice
WP3.1 Economic analysis of the personalized medicine decision support system, taking into account patient outcomes, quality of life and socio-economic context
WP3.2 Clinical implementation of the PM solution in a prospective clinical trial in Norway
WP3.3 Patient-centric implementation of the decision support system to different healthcare systems
WP3.4 Dissemination and communication between project participants and end users
The CLL-CLUE project will benefit from the transnational consortium, including access to patient samples from established biobanks and ongoing clinical trials, to reach the objectives within the project period. Predictive clinical and molecular biomarkers will be identified and fed into AI algorithms, already developed by the project partners, which will be optimized for predicting treatment outcome in CLL patients. In order to facilitate implementation into health care systems across Europe, health economic models will be developed for a high-income and a low-income European country. Emphasis will be placed on involving key stakeholders, including patient organizations and health care professionals for their input before implementation. The AI-based clinical decision support system will be validated in a prospective clinical trial.
The proposed project will be carried out as a collaborative effort including leading clinical and molecular research groups in CLL in Europe, together with key competence in development of AI based decision support system for blood cancer patients and health economic evaluation in Europe.
Added value of the proposed solutions
Added value of the proposed solutions CLL-CLUE pools the unique and complementary expertise, patient cohorts and infrastructure of international experts to create a network to take a step further, towards personalized medicine in CLL. This has the unique potential to create significant added value for clinical management of the disease with new therapeutic options for affected patients. Moreover, this consortium will establish a paradigm for tackling equivalent diseases, and the novel ICT methods developed in CLL-CLUE will provide a successful example and decision tool to be implemented in personalized approaches in other cancer types.
Furthermore, the consortium will benefit from a high quality of bridging basic science with clinical research, cross-fertilizing each other's projects in a patient-tailored direction. This will also provide an opportunity for the participating junior academics to gain important competencies to advance their future careers. The commitment to advancing the career of young researchers is not only supported by the excellent track record of the participating PIs, but also the incorporation of a junior PI, Dr. Skånland, who is poised to lead this project to success.
---

This work is supported by a grant of:
The Research Council of Norway (RCN)
Academy of Finland, (AKA)
German Federal Ministry of Education and Research (BMBF)
Innovation Fond Denmark, IFD
Romanian National Authority for Scientific Research and Innovation, CCDI – UEFISCDI,
project number ERANET-PERMED-CLL-CLUE 196, within PNCDI III
TOP